CVC 2800-LL System Description.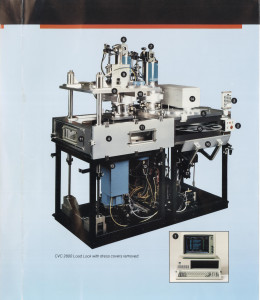 Services Process Versatility
R&D, GaAs, Hybrid, IC, LSI, VLSI, Silicides, Solar Cell & Liquid Crystal
With the CVC 2800 series Sputter System there are up to 8 process stations with up to 9 process modes available for your specified combination of sputter accessories.
Front and backside heat and preclean
Ion source clean
RF or DC magnetron sputtering
RF or DC diode sputtering
RF or DC triode sputtering
RF bias sputter and preclean
Co-Sputtering
Superior Film Quality
Film uniformity of +/-5% over the entire Rotostrate 7″ annulus is readily achieved with single axis, simple rotation. Dense films with high electrical conductivity and excellent ohmic contact are produced routinely, run after run. Grain size is easily controlled by adjustments of sputtering parameters.
Excellent Design for Clean Operation
Pinhole defects and particulate contamination are minimized with the sputter up configuration, the sputter system is designed to fit into a clean room or laminar flow hood to maximize process cleanliness. The internal chamber mechanisms are easy to lift out for rapid interchange with clean parts. It's so easy, you can clean the system as often as your process requires and still maintain production schedules.